This one-sided floating wine rack kit comes complete with all components needed to configure a perfect for display that need to go against custom tiled walls or be set off for any reason.
Easily display your wine collection anywhere with the W Series Single Sided Floating Wine Rack Kit 10, featuring our patented W Series metal wine racks and companion framing system. This one-sided configuration is perfect for displays that need to go against custom tiled walls or be set off for any reason. Constructed of commercial-grade steel, the Floating Wine Rack Kit comes with everything you need to assemble a single-sided wine rack column.
W Series Frame System
The W Series Frame System brings the patented W Series wine rack off the wall to create stunning floating wine displays. Perfect as room dividers, against glass, or in front of tile or stone work where drilling may be difficult.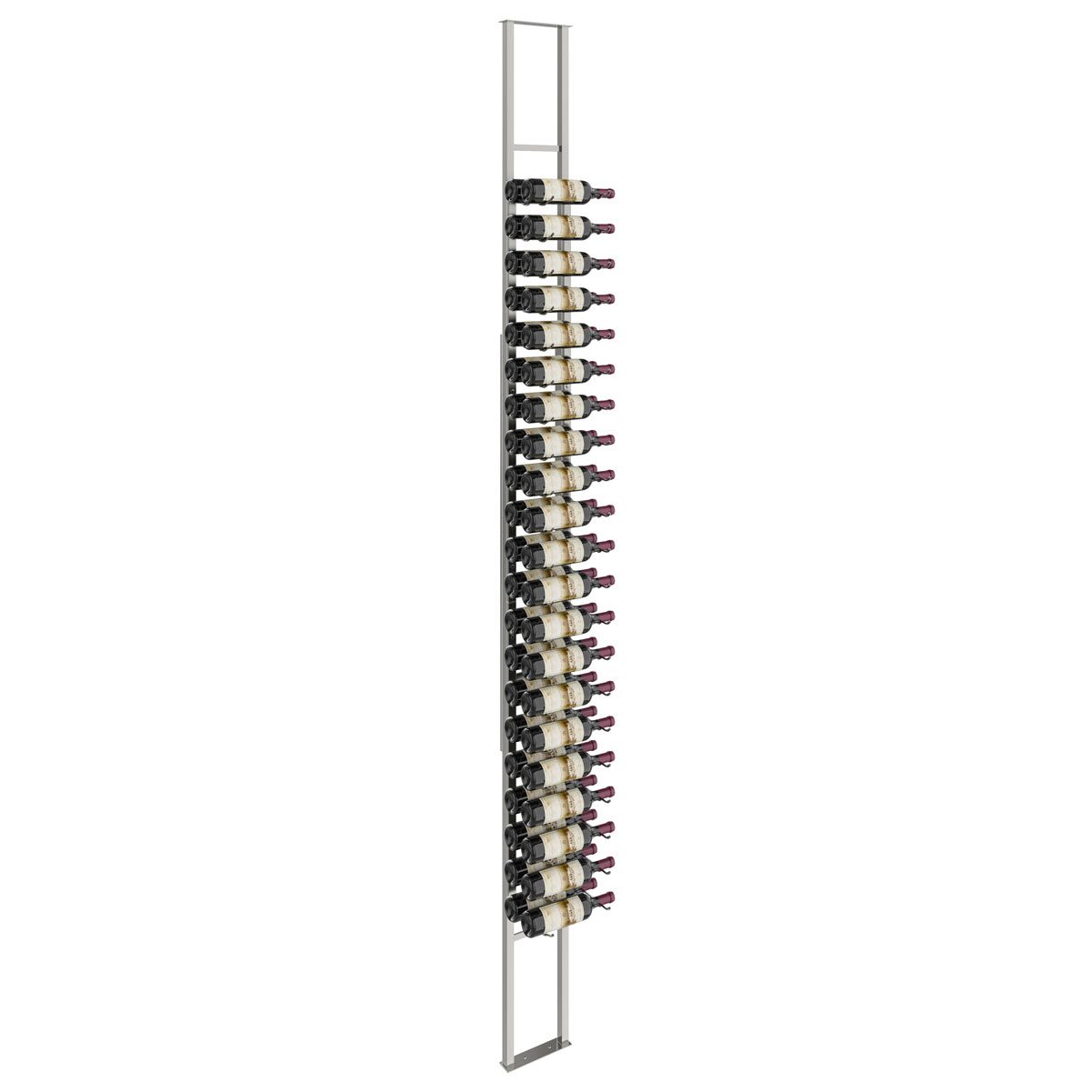 In The Box

Comes complete with one (1) W Series 4 and one (1) W Series 3 wine rack in choice of depth, one (1) W Series Frame 10' that can be cut to fit on site, one (1) Set of W Series Frame Backer Bars (which consits of 2 pieces), and hardware to assemble racks to the Frame, 3D BILT instructions to make assembly a breeze, and all finishing pieces.

Customize On Site

The W Series Frame can reach ceiling heights of up to 10' (305cm), and is cut to fit on site to meet any shorter ceiling height requirement.

Sleek Finish

Built with high-quality steel, backed by a lifetime warranty, and offered with choice of matte black, brushed nickel, chrome luxe, golden bronze luxe, or gunmetal luxe finishes.
VintageView Wine Storage Systems warrants to the original consumer-purchaser that its products shall be free from defects in workmanship and materials under normal and reasonable use for the lifetime of the product. VintageView, at its option, will refinish or replace any product or part found to be defective during the warranty period (excludes installation charges, shipping charges, and cost of removal and reinstallation). VintageView may require you to return the part(s) claimed to be defective for its inspection – freight or postage prepaid. This warranty does not include the cost of any inconvenience or property damage due to the failure of the product and does not cover damage due to misuse, abuse, accident, or damage arising out of transportation of this product.