WHY CHOOSE ROSEHILL
Our passion is wine, and we will dedicate ourselves to giving your wine the best home possible.
WE ARE PASSIONATE ABOUT WINE
At Rosehill Wine Cellars, we can design your new custom wine cellar, starting with as little as a simple drawing or concept. 
We are passionate about wine and about enriching the space in which you choose to store it, and in some cases enjoy it.  Since 1995, we've built many of the finest wine cellars in North America. We are intimately familiar with all the conditions that wine needs in order to be conserved, preserved and continue its aging.
We are the experts in wine cellars and wine storage, and in high quality artisanal cabinet making from the old country.  Our cabinetmakers are masters of their craft, with an attention to detail second to none.  We have years of construction and refrigeration technologies and techniques that we bring to every one of our clients' wine cellar builds. 
Rosehill commits to ensure our clients are not only happy with their outcome, but with the entire journey.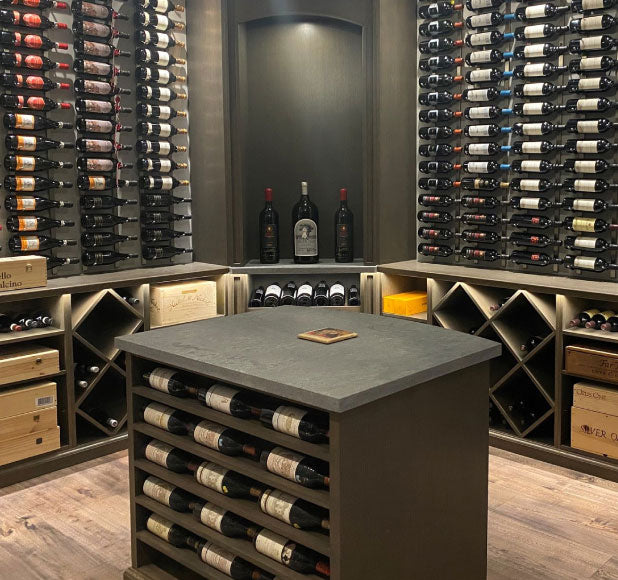 ONE STOP PROVIDER
Rosehill has evolved over time to become a one stop shop for all things wine.
In fact, we are one of the largest wine specialized providers of Custom Wine Cellars, Wine Cooling Units, Wine Cabinets, and accessories in North America. You can be confident that the products and services we offer are of the finest quality and will enhance your enjoyment of your wine collection. Rosehill only represents items that we personally use and believe will appeal to the sophisticated wine enthusiast.
We spend countless hours looking for the best products to bring to our clients.  If you know of something that we don't carry, but should. We would love to hear from you! 

Please send us a message to info@rosehillwinecellars.com.
Client Testimonials

I could not be happier with the Rosehill experience. This is my 5th wine cellar. From the initial design stages to the final delivery, the Rosehill team listened, and took care of every little detail, right down to the delivery in Portugal Cove, Newfoundland.
Jo Mark - Newfoundland, CA
Our walnut wine cabinet your company built and installed is not only gorgeous but it is absolutely amazing! It has completely changed the look of my restaurant FIAMMA and I appreciate all your hard work.
Grace - Fiamma Ristorante
Our experience working with the Rosehill team has been second to none. Top professionals in every aspect of the project...from consultation, to design, to the cleanliness and meticulous manner in which the work was done.
Lino and Paula - Toronto, CA
We are extremely pleased with our Rosehill wine cellar. The Rosehill team brought our vision to reality and truly transformed our space. Professional, meticulous, friendly, attentive and efficient are just some of the many ways to explain Rosehill.
Susan Johnson