Wine Cellar Construction Tips
Wine Cellar Construction Tips
Rosehill provides construction tips as a complementary service. Our aim is to provide cellar construction and preparation guidance so that your cellar will be the home your wine deserves. We hope that when it comes time to order your cellar wine racks and cellar cooling unit, you will think of Rosehill.
Building a Wine Cellar
This guide is designed to provide contractors and builders with a quick overview of the necessary elements required to properly build a wine cellar. Due to the wide array of unique circumstances, (size, location of the cellar, cooling requirements) each cellar will be distinct, however the basic build requirements remain the same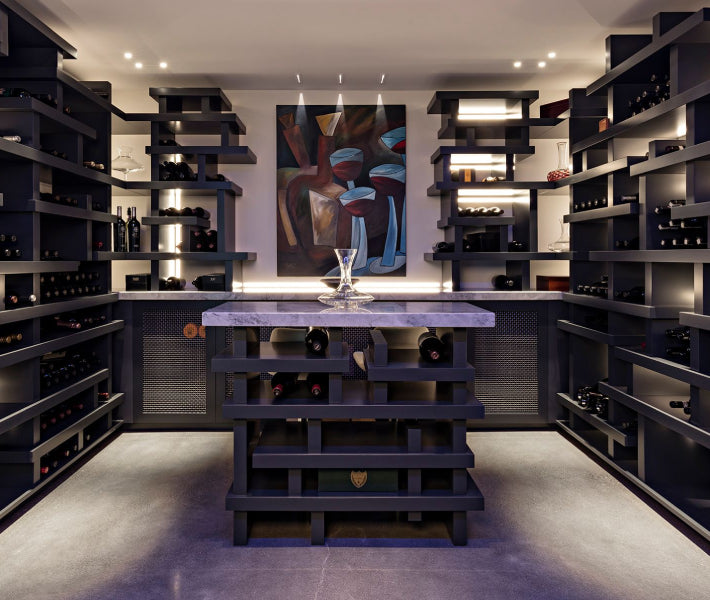 Where to store wine in house?
The ideal location for a wine cellar is still in the basement, below grade. The basement will generally also have a mechanical room for any needed cooling equipment. If the cellar is located adjacent to at least one outside wall of the dwelling, then it is preferred to be in the northeast corner which gets the least amount of sunlight. Here, the sun has the least heating impact on the outside walls. A cellar with no external walls may be situated virtually anywhere under roof. Many homes have unused crawl spaces which people think make great cellars but soon find these cubby holes are too hot in summer and too cold in the winter months, depending on the geographic location of the house.
While this material is based upon Rosehill's many years of successful custom wine cellar design and sound construction knowledge, be advised that we cannot be held liable for how any of the information provided is interpreted or applied. There isn't really one set of rules for all wine cellar construction. Many details have to be considered such as location of the cellar, the climate you are in, what temperature you desire your cellar to keep among other factors.
Where to store wine in house?
Insulation requirements are determined by the outside wall area the cellar will occupy and the depth of the cellar below grade. The very best type of insulation is sprayed-in-place 2-lb. polyurethane, however, this is a more costly option.  The second best option is batt insulation fitted into the stud cavities. This means the outside walls and the ceiling joists, which can be difficult sometimes given the placement of plumbing pipes, ductwork, and electrical wiring etc…
A plastic vapour barrier, approved vapor retarder or at least 6 mil poly must be installed on the "warm" side of walls and ceiling of the wine cellar. If you are standing inside your cellar the vapour barrier is to be applied on the other side of the insulation, next to the outside walls of the cellar. All seams of the vapour barrier should be taped to allow a continuous application between and around all studs and ceiling joists.
How we insulate the wine cellar's wood framed walls?
R-22 batt insulation (Roxul) for 2 x 6 framed (exterior) walls is installed before the vapour barrier between the studs. R-32 batt insulation is installed in the ceiling.
Vapour barrier is required if using batts as opposed to spray foam.
Insulation for Concrete Walls and Ceiling (cold cellar)
2 x 4 wood studs to be inset about one inch from concrete walls – to allow spray to go behind studs
2 lb polyurethane spray foam insulation to be applied on walls and ceiling
Foam to be a minimum of 4" in depth (insulation value is approx. R-7 per inch)
Vapour barrier incorporated into the insulation itself.
NOTE: All necessary rough-ins are to be installed prior to insulation (electrical, plumbing, line set, and condensate drain for cooling unit)
Wine cellars need proper insulation. The importance of insulating and retarding vapours in wine cellars cannot be overstated. Good cellars keep the cold in, the heat out, and control moisture levels.
Wine Cellar Floors
If you have a very cold floor (i.e. cold rooms under front verandas), then we recommend installing 2" X 2" wood "sleepers" on the floor so that rigid insulation of R-7.5 can be placed between them. In really cold situations you can build the floor with 2" x 4" studs on edge and fill with sprayed-in-place 2lb polyurethane.
Finishing Walls in Wine Cellars
Moisture resistant drywall (blue board) is used for the walls and ceiling inside the wine cellar. In newly built homes this is the room without trim. Drywall is to be finished down to the floor since baseboard is not required behind the wine racking. Walls and ceiling are to be primed and painted using latex based paints.
While very attractive and widely used, glass provides very little R value (insulation) within a wine cellar. If you will be using glass, you should consider selecting a cooling unit with a greater BTU output to offset the diminished R value. Generally, the next size up will deliver adequate cooling compensation, however, larger cooling units will never truly compensate for a poorly insulated cellar.
The glass should be a sealed thermal pane unit, usually 5/8" or ¾" overall thickness. The glass should be sealed around the edges in the frame.
Selecting the Right Wine Cellar Door
The door to your wine cellar should be an exterior grade door with weather stripping and threshold. Its important that closing the door makes a seal and blocks the heat and warmth of the house from entering the cellar space.  How thick should the cellar door be?  A door with at least 1 ¾" thickness is recommended.  Glass doors must be double paned (at least) and the glass elements should be tempered glass (if applicable).
Wooden Racking and Metal Racking for Wine Cellars
Please see our racking selection:
Rosehill Wine Racks
If possible, the racking design should be determined before cellar construction commences. The walls can then be proportioned to the exact size of your racking layout, thereby giving the racks the look of a true custom installation. This is for both walls and ceiling height.
Racks should be chosen according to your collecting style. Rosehill's staff would be pleased to assist in the design of your racking layout. Depending upon your budget, design ideals and available cellar space, we would be happy to quote from our Modular, Premium, Custom, VintageView racking or metal racks for your wine storage.
Kick Plates for Wine Cellars
Build kick plates as a platform for the racks.  The kick plates serve two purposes:  1) They provide both a more finished look to your cellar, and 2), the kick plates themselves can be shimmed to accommodate for any unevenness in the floor more easily than the racking on its own.  We make the kick plates the same height as the base trim to be installed. The top surface of the base can be black melamine which blends in when the racks are installed.  You can also use solid wood or some other material for the top of the kickplate, however, it's not really visible once the racks are installed.
The height of your kick plate is adjustable depending on your trim selection. Cellars takes on a rather dramatic appearance with larger kick plates.
Our Premium wooden racking kits automatically come with base & trim. Our Modular Redwood System includes the option of prefabricated kick plates in black laminate with redwood facing trim. These kits are 1" high; and can be used as base and/or crown. They are quick and easy to use and add a nice design element to your racking layout. The miter angle for the Modular Redwood curved corner unit kick plate is 15 degrees.  
The kick plates are strictly optional. Racks may be placed right on the floor and shimmed accordingly.
Wine Cellar Cooling Systems
For help selecting the appropriate cooling system for you wine cellar, please see the comparison chart on our Wine Cellar Cooling Units page.
We can provide you with the exact measurements and specifications for a cooling unit that best suits the location and size of your cellar. Please feel free to contact one of our knowledgeable staff with any questions.  e.
Take a moment to browse our Custom Wine Cellars Photo Gallery where a number of Rosehill-built cellars are on display. These pictures will give you some ideas about our design capabilities and show some ideas you may wish to incorporate into your own design.
You might wish to refer to our Design Your Wine Cellar page for racking layout assistance: 

Rosehill Designing your Cellar